Expert management by our team for your audiovisual needs in a live streaming event
Key Elements for a Successful Corporate
Livestreaming Event
What our clients frequently ask us
Are you wondering what equipment and teams are needed for your project? You do not know live streaming and would like to create your event in peace ?
We have, for you, collected our most common requests so that you can find your needs and have a better understanding of the technical issues of your event.
If your request is not in the points present on the right side, do not panic! Send us your request and we will contact you promptly to establish an action plan for your project.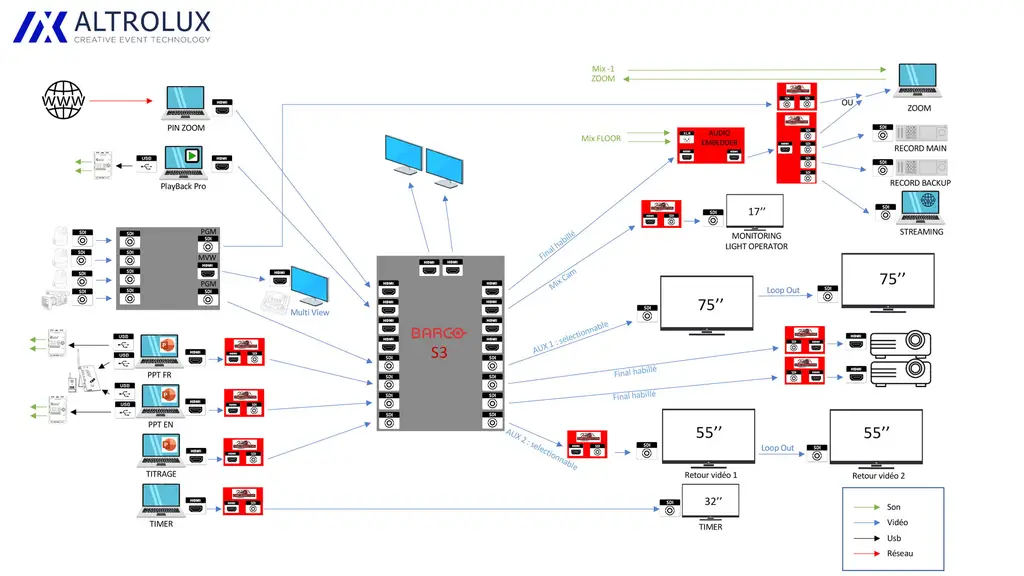 " What is your skills with livestreaming ? "
With several years of experience, we master every aspect of livestreaming: from video capture to encoding, and broadcasting across various platforms. Our teams are trained in the latest technologies to ensure smooth and high-quality streaming.
" What platforms and technologies do you use for hybrid events ? "
Here are some of the main audiovisual solutions suited for live events:
Webcasting Platforms: These platforms allow you to broadcast an event live on the web. Ex: Vimeo Live, YouTube Live, and Facebook Live.
Video Conferencing Platforms: Tools such as Zoom or Microsoft Teams can be used for hybrid events, especially when audience interaction is needed.
" What are your audio and video recommendations to ensure optimal quality both online and on-site ? "
Prioritize HD/4K video for optimal quality. Ensure clear sound with no background noise. Use consistent lighting to avoid shadows. Test in advance. Choose high-quality microphones and cameras with stabilization. Plan for backup options in case of potential failures. 
" Could you recommend event venues suited for hybrid events? Or, would it be possible to organize it inside our company building / warehouse ? "
We suggest partner venues with all the facilities, professionally equipped for hosting your hybrid/ live event, completed with high internet bandwidth. Should you prefer hosting the event in your company? Our tailored solutions can transform your space into an ideal event venue.
Get now all the informations and the answers you need for your next digital event !
Set clear goals and objectives for the event. Identify your target audience and create an understandable event plan to guide your actions.
Choose a reliable platform that can handle the size and scope of your event. Ensure the technology you use supports live streaming, audience engagement tools, and has solid security measures.
Create engaging and relevant content for your audience. This could include expert talks, workshops, Q&A sessions, panel discussions, and interactive activities.
Speaker Selection & Management
Choose credible speakers who can deliver valuable insights to your audience. Manage their schedules effectively and ensure they have the necessary technical support.
Develop a strong marketing plan to promote your event. This might involve social media advertising, email campaigns, press releases, and strategic partnerships.
Keep your audience engaged before, during, and after the event. Use interactive features like live chats, polls, and Q&A sessions to encourage audience participation.
Technical Support & Rehearsals
Conduct tech rehearsals to prevent any technical glitches during the event. Provide strong technical support during the event to resolve any issues quickly.
After the event, follow up with the attendees through thank you emails, feedback surveys, and providing access to the event recording. Analyze the event's success based on your set objectives.
Discover our successful live streaming
project for EU Green
A Showcase Of Environmental Commitment.
What is your streaming channel ?